12 years ago Patricia Ama and I shared Royal African Culture with Foxwear. What better way to express our love of diversity? Following are pictures of this adventure.
African clothes made here now in 2022 For sale at $60 each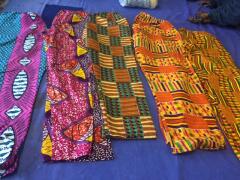 A brief history of Ama's Royal African Culture work in Salmon.
Upon getting USA citizenship 12 years ago, teaching W African cooking was great fun.
Idaho teachers heard Ama was living in our community and so she was invited to give these youngsters a glimpse of the world they couldn't even imagine.
Next came using our industrial sewing machines for African styles using African fabric.
A few customers called after discovering us on the Internet.
We introduced Ama's creations to people visiting fairs in Salmon Idaho and Western Montana. People needing diversity were overjoyed.
Here are some creations
We've been interested in these fabrics for a long time.