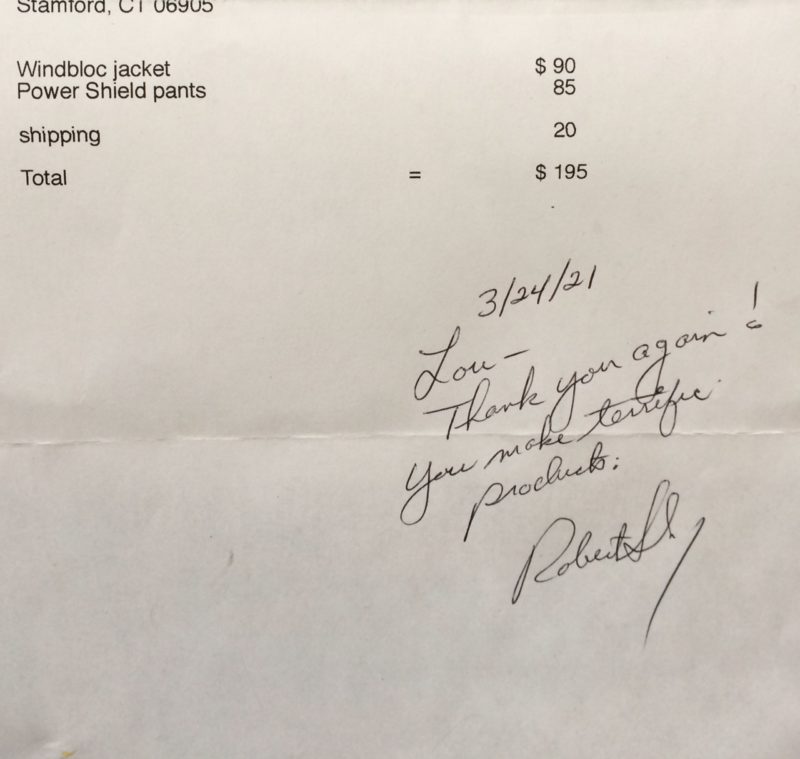 I don't know where to start, pants sizing is perfect, just the right amount of loose for layering. Length is also perfect, the velcro gaiter straps perfect.
The jacket is possibly the nicest looking jacket that I've ever owned, and the fit is a tad long (which means perfect, when you are dealing with tall people's clothing). It's exactly how I hoped it would be.
I'm pretty picky, about my gear, this is easily the nicest rainsuit I've ever owned.
I think that you can raise your prices, your gear is that nice! I am very grateful.
Mike     (Canada)
———————————
review from Chris Woolfe     November 2015
Looking at buying pants online, I found that to fit my waist, I would have to order a Medium; but to fit my length it would have to be an XXL. Found Foxwear on google. Lou is very professional and delivered a 100% quality product on time. He made pants even better than I could think to ask for!  The material is strong and sturdy and reinforced in areas of need. Worth every penny!
————————————————————————————————
Lou,
I ordered a pair of 'winterized' Neoshell pants from you Oct. 4, 2013  and with the winter we've had this year in Ontario, NY they've worked great.
Twelve days of sub-zero temperatures so far with more in the forecast for this coming week.
Combined with a neoshell jacket and some long sleeved breathable shirts, I've stayed warm and dry while exercising outdoors.
Great product and I've recommended you to other winter enthusiasts.
-Kevin Roberts
---
Hi Lou, I've been using the rainwear, that you made for me, for a while now. VERY NICE! Now that it's getting cold out, I'm wearing them every day. I find them perfect at 30F, below that I begin layering. Super nice gear. Just wanted to let you know. I actually look forward to the nasty weather now.
So much appreciated, Mike Giciuk.     25 November  2015
---
I live in rainy Vancouver Canada and I use my FoxWear pants for cycling year round – rain or shine.
I have previously owned two other brands of rain pants and I've been using my FoxWear pants for several weeks.
I have made a few observations about the service and the pants:
1. The service is excellent. In my case there was a small problem with my order and Lou was very responsive.
2. I am tall and thin. None of the ready-to-wear pants that I have bought in the past fit properly. It was a big treat to get pants that were long enough to cover the tops of my boots. I found that getting an extra 2 inches in length (over my full inseam measurement) made the pants fit nicely when my legs are bent on my bicycle. I no longer get water in the top of my boots.
3. I was concerned about the fact that FoxWear uses a 12″ Velcro slit at the bottom of the pants. My previous pants had a fancy waterproof zipper and I was concerned the Velcro would not be waterproof enough. I am pleased to report the Velcro works very well and I find the pants easy to remove – even when I have my boots on.
4. I bought the light weight fabric. Even at temperatures of -10 C / +14 F the pants are very effective.
5. If you live in Canada, I recommend you use the low cost Canada Post service. I was impatient and used the express service and the pants took exactly as long to arrive as the standard $10 service. (In fairness, Lou recommended the cheaper service.)
Regards,
Cristian Worthington
http://www.MediaVidi.com
---
Paul:
  Lou – thank you – all arrived safe, fits like a glove.
Your service was great, and I do love my new rain gear. If I had to change anything it would be willing to pay extra to have UPS ship this; I couldn't track the parcel as the postal system was not very good at entering the progress of the delivery (from you to LA, and from there I have no idea) which took close to 2 weeks – but it did get here.
I love supporting small businesses who take great pride in their products and their service – I wouldn't hesitate in enthusiastically recommending your business.
Thanks Lou, it has been a pleasure.
Paul Nahirney / Canada
---
Thanks to Icebike.org, a great source for winter cycling information, for letting us reprint their reviews!