Foxwear carries a full line of fabrics to suit your climate and activity. Not only does Foxwear offer custom sizing, but we also carry a range of colors for a truly custom garment. 
Search for  cycling forums Foxwear  to learn more.
NeoShell
is a revolutionary new fabric that is waterproof and windproof but much more breathable than traditional waterproof shells. Head out in the rain or heavy wet snow and stay dry without the sweating you get with other waterproof layers.
A Variety of Colors to Choose From
Now, again there's the warmer version of NeoShell.    Known as midweight NeoShell it has a black outer with thin velour fleece on the inner side.
 Also there is now a slate gray outer with polyester jersey on the inner side.   This is not fleece but a tad warmer than the tricot nylon inner that NeoShell has been made of for most jackets and pants.
and there's thinner/stretchy or stiffer/less-stretchy  both weighing the same. 
Dermizax fabrics
1.5mm gray for winter jackets and pants
1mm navy for tights
Power Dry
Power Dry keeps the wearer dry and comfortable due to the next-to-the-skin construction. The soft inner layer rapidly wicks perspiration away from the body while the outer layer spreads moisture for maximum evaporation. It is designed to be a base or only layer. Power Dry fabrics are ideal for sports that create significant body moisture due to high exertion and aerobic activity.
Comes in 0.5mm weight, 1mm and 2mm.   
This fabric is featured on our tights and shirts.
A view of heavyweight Power Dry →
More colors can be seen here 
Lightweight Power Wool shirts in colors that are a tad warmer than Power Dry.  $35
heather gray
denim jeans  shade of blue
green
pumpkin
grape
Power Shield 
 
Power Shield is a fabric known as a soft shell. The fabric is extremely abrasion resistant for long lasting durability with a water repellant surface that sheds rain and snow. It blocks 98% of wind to reduce wind chill but is breathable. Clothing made from Power Shield provides warmth without the weight and bulk of traditional insulating fabrics. The shell creates less noise than traditional fabrics and is machine washable.
Power Shield comes in four weights:
0.5mm (Ultra-lightweight)
1.0mm (Lightweight)
2.0mm (Mid-weight)
4.0mm (high-loft velour inner)   〈 11.5 oz/sq. yard 〉
Check out this video for more info:
Power Shield Pro
Power Shield Pro styles and colors
1mm  black
1.5mm  chocolate brown with grid fleece inner
2mm   red   or   dark brown colors
90% of the time you are outside, the weather isn't that bad. So there is great benefit in giving up a little weather protection, in order to get a lot more breathability.
Power Stretch
Power Stretch is a 4 way stretchy fabric that is used for tights, t-shirts and extra-breathable panels on jackets. One side is fleece and the other side is a stretchy lycra with a smooth durable backing for better layering of clothes.
The fabric has wicking/siphoning properties for moving moisture away from the body. It also has odor reducing treatment to inhibit the growth of odor-causing bacteria.
Clothing made from Power Stretch is ideal when superior abrasion resistance and maximum freedom of movement is desired such as for climbing/running/cycling/cross-country skiing tights and equestrian pursuits.
There are five weights of Power Stretch available:
1.0mm (Lightweight)
1.5mm
2.0mm (Mid-weight)
2.5mm (available with DWR Water Resistant finish)
3.0mm (Heavyweight)
Power Wool   for tights
slightly different than Power Stretch in that's it made up of 45% nylon/40% wool/15% spandex.  Approx. 2 to 3mm thick.  Black.  They are the same price as Power Stretch tights.
Retro-X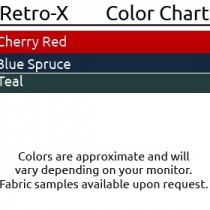 Retro-X comes both with or without a windblocking membrane. It is the warmest fleece around and looks like sheepskin with a heavy nylon or mesh backing. This material is for really cold outings, but it won't smother you once you've warmed up.
Windbloc
Windbloc fabrics have a membrane or film of windblocking material that is semi-breathable. This membrane is bonded or laminated to the outer fleece layer to create a water resistant shell. The inside of the lightweight Windbloc is a nylon mesh. The mid-weight has a thin wicking inner fleece layer.    
Wind Pro
Similar to Power Shield, Wind Pro is a soft-shell fleece featuring a very tight knit for wind resistance while remaining breathable. Slightly heavier than the heavyweight Power Shield.